We are sorry, but our park is temporarily closed until further notice due to a medical emergency that required us to travel out of state for treatment. Thank you for letting us be part of your travels and we sincerely hope you will choose to stay with us again in the future. Thank you for your understanding and safe travels to all!
~Mick and Brenda Vinson
Two Bit Outfit RV Park
A Warm, Hometown Welcome that is Priceless!

Call 406-293-8323 for Reservations

Two Bit Outfit RV Park


17 Two Bit Circle
Libby, Montana 59923
Email Us
Reservations: 406-293-8323

While visiting beautiful northwest Montana, we can provide a clean, safe and secure site for you to camp or park your RV in a peaceful setting in the heart of the Kootenai Valley. At Two Bit Outfit RV Park, you can rest and relax in a park-like setting after a full day of activity enjoying the most stunning scenery, visiting various nearby attractions and touring the Northwest′s must-see destinations!

Situated on almost five acres of private property, Two Bit Outfit RV Park is conveniently located just outside the city limits of Libby, Montana on U.S. Highway 2 West. Our convenient location makes for the ideal vantage point for you to be engulfed by a 2 million acre playground!

Nestled in the northwest corner, our mountain town shares a valley with the dignified Kootenai River and rests on the brink of the majestic 95,000 acre Cabinet Mountain Wilderness Area. Offering a scenic backdrop for any occasion, this beautiful mountain range is the outdoor enthusiast′s dream. With a network of high mountain trails and lakes, you can easily get your fill of hiking, camping, fishing, and horseback riding!

A real highlight not to be missed is the remarkable Kootenai Falls. Flowing downstream from Libby, the Kootenai River enters a deep, jagged canyon where it drops over the Kootenai Falls, an impressive sight that marks one of the largest free-flowing waterfalls in the northwest. Seventeen miles to the north, the 90-mile long Koocanusa Reservoir, held back by the 422 foot tall Libby Dam, invites you to visit and discover a diversity of year-round recreational opportunities. From swimming, boating, and water-skiing, to camping, fishing and sightseeing, this man-made nature′s paradise will satisfy the most ambitious souls seeking to soothe their sense of adventure!

Two Bit Outfit RV Park and Campground is open seasonally from April 1 through November 1 with full-service facilities. Combined with our highly sought-after amenities for the traveler′s at heart and the exceptional personalized service that we offer our guests, our northwest Montana RV park will be your perfect locale to use as a home base year after year. With full hook ups available that include water, sewer, electricity, and cable television, all will certainly satisfy your camping craving while offering the conveniences of home.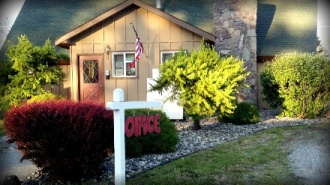 Two Bit Outfit RV Park & Campground
Resident on-site park owners
Family friendly → children welcome
Small town hospitality
Quiet atmosphere
Natural surroundings
Groups welcome
Full hook-ups
Free cable television service
Free public Wi-Fi hotspots (varying signal strengths)
Complimentary shower facilities
Modern, clean restroom facilities
Laundry facilities
Horseshoe pits
Reserved tent area
Pet friendly
Trash receptacles
Complimentary maps and brochures
RV, Camper, & Tent Sites
Daily, weekly, and monthly rates
Spaces available → 29
Pull-thru, back-in, and pull-in sites
Room for multiple slideouts
Big rig friendly
30 amp & 50 amp service
Picnic tables
Shade trees
Vehicle and RV washing allowed on site
General Policies
Check-in time: 12:00pm. For travelers experiencing unexpected delays, please notify us as soon as possible so we can accommodate.
Check-out time: 11:00am.
Montana state 7% accommodation tax will be applied to daily and weekly rates.
All fees are due at time of check-in.
Pets are allowed.
Large patio carpets are prohibited on the lawn. However, small door mats and entry rugs are allowed.
As full laundry facilities are available for our guests, please do not hang laundry from your RV, awning or clotheslines.
Children must be accompanied by an adult at all times.



Refund Policy:

If you need to shorten your stay, a full refund will be issued only if we are notified by 11:00am the day

prior

to your anticipated departure date.



Pet Policy:

Because we understand that travelers want to share their vacations with their pets, we are determined to keep your entire family together by establishing a pet-friendly RV park. We only ask that you return your site in its original condition and clean up after your pets. With Two Bit Outfit RV Park, pet-friendly RV rental is that easy.
However, to ensure that all guests have a quiet, pleasant and relaxing visit, we ask that you keep the "unspoken" rules in mind when traveling with your four-legged friend. Making sure that your pet is never left unattended or tied up, that he is always cleaned up after and that he is securely leashed as you meander throughout the park will prevent avoidable annoyances and inconveniences that pets can sometimes create. Thank you very much!
Short-Term & Long-Term RV Site Rates - Call 406-293-8323 for Reservations
Description
Daily Rate
RV Full Hook Up (30-amp service)
$45.00 +Tax
RV Full Hook Up (50-amp service)
$50.00 +Tax

Extended stay accommodations

are available.
Please call for details.